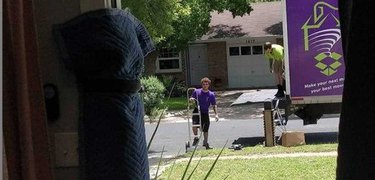 Best Unpacking Services In Texas
Are you unable to find time or energy to get to unpacking? You don't have to. House N Box Movers is here with the most reliable and efficient unpacking services of Austin.
Has it been a while since the piled up boxes have been catching dust in the corner? House N Box Movers understands your need for unpacking services because nobody ever claimed it was an easy and quick task. Our team includes trained professionals of movers and packers, and no matter the quantity, quality, or placement, you can put your faith in our A-grade unpacking services.
Relax and leave the heavy lifting to us.
What Can You Expect From Our Unpacking Services?
Do unpacking services only include the unpacking of boxes? No. Most advise hiring professionals after moving because it does come with its perks. Unpacking services include unpacking of all boxes, decluttering and recycling the clutter stealing your house's shine, unwrapping fragile things with care, organizing your things, be it clothes, utensils, or furniture, setting up pictures, curtains, showpieces, and so on. With our unpacking services, you can be assured; we will glorify your house according to your design.
Benefits Of Unpacking Services
Not everybody, at the end of the day, has the time, energy, or utmost efficiency when it comes to unpacking. Hiring professional unpacking services can be highly rewarding.
Here are a few of the rewards it comes with:
Saves Time
Hiring unpacking services is the way to make sure you don't have to sacrifice your time. You can get on with your routine while we make sure the work is done efficiently. And it especially becomes a hassle when there's a job or other time-consuming work to tend to. Why worry about the work we can do for you?
Safety
Simpler items might not come with many risks. But fragile and or bulky objects do. Either they run a high damage risk, or you run a high-injury risk. Experience and training come in handy, especially in this field. Save your money, your belongings, and yourself with professional unpacking service.
Cost-Effective
Unpacking services cost is effective in the long run. It rather helps you save money. How? Unpacking services include multiple tasks that might end you costing more separately.
We strive for zero damage so that it doesn't put a dent in your wallet. You are not paying for transport, supplies, and tools - we take that responsibility.
Contact The Best Movers and Packers
Servicing in Austin, Pflugerville, and Round Rock, we provide top-notch customer care. Believe us, your search for the best unpacking service ends with us!
Moving Is Never
Simple
Allow us prove this statement WRONG