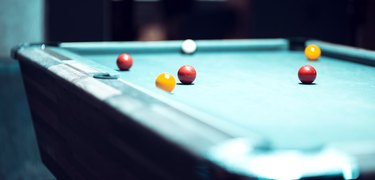 Hire #1 Pool Table Movers in Austin
House N Box Movers is a professional moving company working with fully insured W-2 employees, a team of skilled pool table movers that can handle any residential and commercial moving jobs.
Moving to a new house can be a stressful experience, especially if you do not hire full-service movers to help you. Consider, for instance, your prized pool table. A professional moving company has an entire team of skilled movers, including pool table movers.
They know exactly how to dismantle, pack, ship, and then set up your pool table again. Many owners have tried bringing a few friends over to help them. In most cases, the pool table got damaged in the process. In some cases, someone got injured. For an experienced pool table moving company, this is an everyday job, and we know how to do it right.
What Pool Table Movers Can Do for You
The first benefit you get from hiring professional pool table movers in Austin is peace of mind. You can rest assured that your valuable pool table will be treated with care and that the workers handling it are fully insured W-2 employees, not contractors.
When accepting a job, a pool moving company knows that it is more than just an object they have to relocate from one house to another. A pool table has a sentimental value and it is as much an entertainment feature in your home as it is an object of art, crafted with skill and talent. Experienced pool table movers know all of this, and use their best abilities and professional packaging materials during the move.
How to Find the Best Pool Table Movers
Performing a simple Internet search will give you dozens of query answers in your area. But not every moving company is capable of handling your pool table. You need to look for:
Evidence the company can perform this service
Testimonials from clients
Business ratings and accreditation
Warranties the company offers for its services.
Hire a Team of Reliable Pool Table Movers in Austin!
House N Box Movers is an experienced moving company holding an A- BBB accreditation for the quality of our services. We work only with W-2 employees and treat every job with the same professionalism, no matter how simple or complex it is.
We are the pool table moving company you can trust, ready to help you with short-distance or long-distance moving in:
Austin, TX
Pflugerville, TX
Round Rock, TX
Kyle, TX
Buda, TX
San Marcos, TX
Georgetown, TX
Lakeway, TX
Cedar Park, TX
Hutto, TX
Let our experienced pool table movers help you get settled into your new home! Call us: 512-939-8855!
Moving Is Never
Simple
Allow us prove this statement WRONG