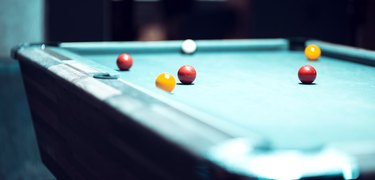 Hire Professional Pool Table Movers in Austin, TX
A pool table is a valuable possession in any house. Without proper disassembling, it's impossible to move it to another location. Here's everything you need to know about hiring professional movers.
Moving to a new house can be a stressful experience, especially if you do not hire full-service movers to help you. This is especially true if you own a number of prized possessions in your home, such as your pool table. Hiring a reliable billiard table moving company benefits you in a number of ways. For one, it has a team of skilled movers, including pool table movers. They have the right equipment to not only ship your pool table but also dismantle and pack it.
Benefits of Hiring a Pool Table Moving Company
A pool table moving service has the equipment and knowledge to disassemble, pack, transport, and reinstall your pool table. With years of experience under our belts, our pool table movers have what it takes to move anything to your new location.
All in all, billiard table moving isn't a walk in the park, and it's impossible to pull it off without professional assistance. Here are the three major steps involved in moving a pool table from one location to the other:
Disassembly
Some of the most critical supplies needed to disassemble a pool table are:
A drill with flat-head
Needle nose pliers
A socket wrench
A staple puller, etc.
Then comes the wrapping and packing up, which also requires moving blankets, Ziploc baggies, movers' wrap, and much more. From removing the rail bolts and liners to taking off the corner miters, our professional pool table movers know exactly what steps to follow when disassembling your pool table.
Transport
Only a professional pool table moving company can dismantle your pool table into its basic elements correctly before loading it onto the moving truck. From positioning it to securing it, our team ensures that the pool table does not undergo any damage while in transit in Austin, TX.
Installation
Reassembling and installing a pool table correctly into the new spot is where a professional team like the one at House N Box Movers would excel. The first step is to ensure that the area where the table is to be placed and installed is clear. Our team starts by removing any clutter that may harm the billiard table moving process.
Then, they carefully unpack the hardware and parts before putting them back together.
How Can Professional Pool Table Movers Help?
Disassembling and reinstalling pool tables can be tricky. After all, there is no standard way to do it, given that the brand, model, age, and condition of different tables can vary. Professional pool table movers have the expertise and experience to handle any kind of move confidently.
Furthermore, our fully licensed, bonded, and insured pool table movers, Austin, ensure that your table arrives safe and secure at its final destination. It's also important to factor in the time and effort it takes to move even a small piece of furniture to and from the truck without damaging it.
With the skills and expertise of House N Box billiard table movers, you won't have to worry about any of it. Our professionals will complete the process efficiently while you focus on other important aspects of your relocation.
Hiring local pool table movers saves you money on the following:
Purchasing your own equipment
Replacing or repairing a damaged pool table
Fixing any kind of damage to property
We are the pool table moving company you can trust. Our service area covers:
Austin, TX
Pflugerville, TX
Westlake Hills, TX
Let our customer service representatives at House N Box Movers guide you further. Contact us now and get your free quote today!
Moving Is Never
Simple
Allow us prove this statement WRONG