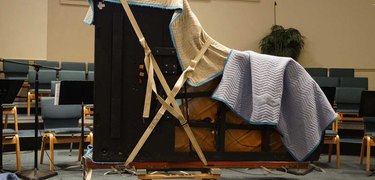 Hire Piano Movers In Austin, TX Today!
If you own a piano, you know how heavy it can be to move around. This guide will help you gain a better perspective on hiring a professional service instead of relying on your DIY skills.
A piano is undeniably one of the best things to have in your home. No matter what kind you own, it is certainly a great way to add that hint of elegance and luxury to your space. Nonetheless, moving it to a new place can be a daunting task, especially in the absence of professional piano movers. However, these full-service movers ensure that every item of your home, no matter how small or big it is, is handled with utmost care. So, if you're also busy searching for "piano movers near me," you're in luck.
How Can a Piano Moving Service Help?
Did you know that an upright piano weighs about 400-500 pounds and is about 6 feet long? A grand piano is even heavier and wider. Moving larger models isn't a walk in the park and, in many cases, can be dangerous if done without a reliable piano shipping company. That is why you need piano transportation services.
No matter what size of piano you own, it will be difficult to move it. Local piano movers are well aware of the protocols to use when moving any piece of furniture. However, people who try to save their bucks on a piano moving service fall prey to unwanted problems. Here are some mistakes people make when moving furniture on their own:
Rushing through the process
Lack of moving equipment
Lack of manpower
Calculating the weight of different items wrong
Using the castors to move the piano
Sometimes, even minor mistakes can lead to serious injuries and damage to the piano. Hence, it's always wise to hire professional piano movers who have the equipment and manpower to move this heavy piece of furniture in Austin, TX.
Still wondering why you need a professional piano moving service in Austin, TX? For one, they're properly trained to disassemble pianos and take complete care in moving them. Furthermore, they have the equipment to pack and move pianos of all sizes, types and weights.
Piano Moving Cost: How Much Does It Cost to Move Pianos?
When it comes to hiring a moving service, it's important to consider the costs involved. The piano moving cost can vary based on the number of pianos to be moved, the amount of labor required, and the area to move them to.
On average, the national cost to move a piano is about $404. This cost can range between $258 and $576. The lowest end of the spectrum is around $150, but the highest end can extend to $2000. Remember, something as delicate yet heavy as a piano can't be moved without the assistance of the best piano movers. Even if you skip hiring a service, you will end up paying a number of hidden moving costs in the process.
The Best Piano Moving Company for You
Opting for the DIY route when moving something as heavy as a piano will be the biggest mistake you make when moving to a new location. At House N Box Movers, we have long-distance piano movers and additional staff that are not only well-equipped and knowledgeable but also fully trained to pack and carry any piece of furniture from one place to the other.
A simple online tutorial will never come close to the years of experience a professional piano moving company has.
Our fully licensed, bonded, and insured piano movers in Pflugerville, TX, Westlake Hills, TX, and of course, Austin, TX, ensure that your piano reaches the new location without undergoing any damage.
Contact us now and get your free quote today!
Moving Is Never
Simple
Allow us prove this statement WRONG