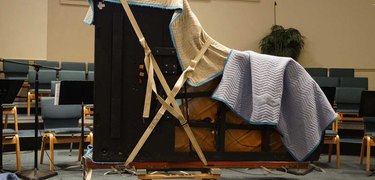 How to Handle Piano Moving when You Are Changing Houses
House N Box Movers is a specialized moving company, holder of an A- BBB rating, with the right know-how, staff, and equipment to handle piano moving safely and efficiently even for large models.
Experienced full-service movers recommend using their professional services for piano moving. This is a very difficult and delicate task: first of all, a piano is very heavy. A small spinet piano can weigh between 300 lbs and 400 lbs, while a grand piano can weigh up to 1,000 lbs. One wrong move and you could suffer a major injury.
Also, a piano moving company knows how to handle this delicate, fine-tuned instrument. Pianos can have up to 700 moving parts. Knocking it against a wall or dropping it on the stairs can make one or several of these parts get out of place. It is enough to get the piano out of tune and in need of expensive repairs.
Piano Moving Cost vs. the Value of Your Prized Musical Instrument
A piano is not just an expensive musical instrument. Musicians are attached to their piano - the witness to their first lessons, failures, and successes. Every piano is unique and irreplaceable because it is usually a hand-made instrument with a story. Instead of trying to save on piano moving cost, consider you made a valuable investment in protecting something you cannot replace.
When you hire a piano moving service company, you are making yourself a promise: that wherever you are moving, your beloved piano will be there, in perfect condition, and ready to make beautiful music sound in the room.
Selecting Quality Piano Movers
Since so much is at stake, you need to make sure that you hire a specialized piano moving company. Experienced professionals know how to pack your piano, what kind of climate settings it needs during storage and transport, and how to move it gently up and down steep stairs.
A professional piano moving company can always offer you references and testimonials from other customers and explain the moving process step by step. They will also assure you that their workers are fully insured W-2 employees, not contractors.
We Are Ready to Help You with Piano Moving!
At House N Box Movers, we know how valuable your piano is. This is why we are using our best staff to offer you excellent piano moving service on short or long distances. Our service area covers:
Austin, TX
Pflugerville, TX
Round Rock, TX
Kyle, TX
Buda, TX
San Marcos, TX
Georgetown, TX
Lakeway, TX
Cedar Park, TX
Hutto, TX
We are the piano moving company you can trust! Call us: +1 512-939-8855!
Moving Is Never
Simple
Allow us prove this statement WRONG