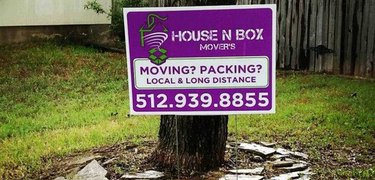 Professional Movers and Packers in Austin, TX Make a Difference
Organizing and packing your belongings without damaging or losing anything in the process is a big job. Our professional movers and packers make sure your belongings are handled with care.
Looking for packing and unpacking services in the Austin area? Our full-time pack and unpack movers are experienced and careful, with attention to detail that means your belongings will get there safely and in one piece. We professional moving company, so whether your relocation is out of state we can help.
House N Box Movers are Austin movers and packers who understand that you've got valuable cargo.
House N Box Movers: #1 Local Packing Services for Moving
House N Box Movers is one of the best removal companies that pack and unpack, available in ‌the Austin area. Trust our professional, punctual, polite, and attentive team members for safe and express house packing services. Our experts have many years of experience and a long list of positive testimonials and excellent reviews from satisfied customers for our household packing services. We are the best at what we do and are always respectful of our client's needs, schedules, and relocation timelines when offering our services for moving.
Benefits of Hiring Professional Packers
Not everybody, at the end of the day, has the time, energy, or utmost efficiency when it comes to packing or unpacking. Hiring professional highly-rated packing services can be rewarding.
Here are a few of the rewards it comes with:
Saves Time
Hiring licensed professional packers is the way to make sure you don't have to sacrifice your time. You can get on with your routine while we make sure the work is done efficiently. And it especially becomes a hassle when there's a job or other time-consuming work to tend to. Why worry about the work we can do for you?
Safety
Simpler items might not come with many risks. But fragile and or bulky objects do. Either they run a high damage risk, or you run a high-injury risk. Experience and training come in handy, especially in this field. Save your money, your belongings, and yourself with professional packing services.
Cost-Effective
Moving companies pack and unpack services cost is effective in the long run. It rather helps you save money. How? Unpacking services cost include multiple points that might end up costing you more separately.
We strive for zero damage so that it doesn't put a dent in your wallet. You are not paying for transport, supplies, and tools - we take that responsibility.
But What About Packing and Unpacking Services Cost?
Using professional moving and unpacking company services saves you hours of worry and planning. We use only tight, efficient packing techniques to ensure no damage in transit. And with professional parking services, the best part is how easy and cost-effective your move can be! Get all moved in without the price of renting a truck, buying packing supplies, or bribing your friends to help. Moving can be a stressful time, both physically and emotionally. At House N Box, we're a one-stop solution for moving needs, so you can relax and enjoy your new home.
Our service area covers:
Austin, TX
Pflugerville, TX
Buda, TX
Find out why we provide Austin's best movers that pack and unpack cost.
Contact us at House N Box Movers today to learn more!
Moving Is Never
Simple
Allow us prove this statement WRONG