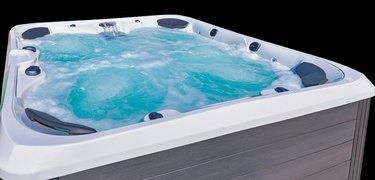 Moving Houses? You Need Hot Tub Movers in Austin, TX
Our hot tub moving services in Austin, TX, are tailored to meet the demands of every move perfectly. Read to learn to discover how we take the burden off your shoulders with the best services.
Moving a hot tub is a laborious, complex move requiring specialized equipment and proper planning to get the job done easily. The average weight of a hot tub (without water) is close to 900 pounds, and while you can get your hot tub moving on your own, hiring full-service movers is your best bet for a safe hot tub relocation. This is where our professional hot tub movers come in. We're fully licensed, bonded, and insured, which gives you the peace of mind you deserve.
Don't DIY Your Move - Hire Hot Tub Moving Services Instead!
Hot tub transportation requires strong, experienced long-distance hot tub movers to transport your hot tub to the moving truck. In addition, the truck must support the tub's weight and have the appropriate tie-downs to secure it for the journey.
If transporting a hot tub seems like a tedious job, which it actually is, hire House N Box Movers' hot tub moving services to ensure that your hot tub (no matter the weight) arrives at its destination in perfect condition without any damage.
Hot Tub Moving Company for a Fully Licensed, Bonded, and Insured Move
House N Box Movers is made up of professional hot tub movers that believe in providing each client with a service with excellence as a bare minimum requirement. They say, "hot tub movers cost too much"—allow us to prove this statement wrong. If you've been searching for a hot tub moving company and are located in any of the following Texas areas, get in touch with us ASAP:
Austin, TX
Pflugerville, TX
Westlake Hills, TX
anywhere nearby.
We, House N Box Movers, are among the best-rated movers in the local area. Our team of movers is trained to meet the demands of every client for a successful move. So, if you're searching for a spa moving company that provides hot tub transport or delivery services in a trailer or truck in the Texas areas of Austin, Pflugerville, or Westlake Hills, let us help you out.
For free estimates, please fill out the form or call 512-939-8855/1888-368-4688. And don't forget to check out our other moving solutions. The sooner you get in touch, the sooner we'll start organizing your move!
Moving Is Never
Simple
Allow us prove this statement WRONG