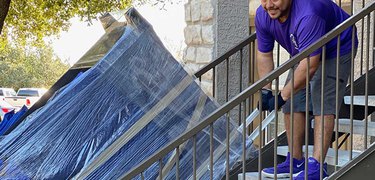 Top Household Movers in Austin, TX
House N Box Movers are your local household movers offering unbeatable services and resources, including packing assistance, for your residential or commercial move.
Hiring professional household movers can open up many opportunities for you when you're planning on moving to a new home. The only thing you need to take care of is choosing the right moving company. House N Box Movers is that company. We are a local household moving contractor in Austin, Texas, offering a variety of residential movers services to the customers in the area.
Types of Household Moving Services
We first come in and protect your flooring and doorways, equipped with enough furniture protection to pack up every item in your home. Most fully licensed, bonded, and insured household moving service have many hidden fees. We handle the disassembly and reassembly services with no additional cost! Full-time employees at House N Box Movers ensure that your items make it to your destination in one piece.
A benefit of choosing local household goods movers is the professional packing assistance. Many local movers will work with a professional packing team. These personal household moving professionals bring expert service and materials for packing your belongings safely and securely.
Your highly rated household items shipping contractor may even look upon these types of professionals for expert packing for large or oversized items. Many of these professionals even assemble furniture you may have purchased for your new home.
Why You Should Choose Local Household Movers
House N Box Movers assess your moving costs a little differently than other household moving companies. After you reach out to House N Box Movers, a moving specialist will visit you for a survey of your household belongings. Once this survey has been completed, an accurate assessment of your household moving costs will be provided to you, enabling you to make an informed decision on whether you want to go through with the services of our local household movers.
House N Box Movers For Residential Moves
When you need "household movers in my area" for your residential move, call House N Box Movers. Our moving specialists can help you with getting your move coordinated and offer resources that can make your move more manageable and less stressful for you. House N Box Movers are the only household good transporters you need in:
Austin
Pflugerville
Cedar Park
Hutto
Georgetown
Lakeway
Kyle
San Marcos
Buda
Round Rock, TX
Fill out the questionnaire on our site or call House N Box Movers at +1 512-939-8855, and our moving specialist will pay you a visit soon!
Moving Is Never
Simple
Allow us prove this statement WRONG