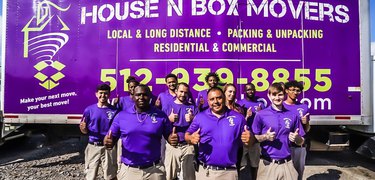 Our Job Opportinities Are Endless
Providing moving and storage services in Austin and all around Texas area.
WHY WORK WITH US?
It's time to make your next career move. House N Box Movers is made up of honorable men and women that believe in providing each client with a service with excellence as a bare minimum requirement.
Each employee is well-trained and well-experienced before entering any home. Our fleet comes with air ride moving trucks and more than enough moving equipment to protect our client's goods and ensure a safe move!
Career growth is both abundant and encouraged.
Open Positions
Move Crew Leader Driver (Austin TX area)

Mover Duties and Responsibilities

While a mover's day-to-day duties and responsibilities are determined by where they work, there are many core tasks associated with the role. Based on our analysis of job listings, these include:

(PACK AND PREPARE ITEMS)

At the destination, movers help prepare and pack clients' items to prevent damage during transit. Their tasks include taking apart furniture, wrapping items in bubble wrap or stretch wrap, putting loose items in boxes and sealed bags, and using straps and cardboard sheets on large items.

(LOAD AND UNLOAD ITEMS)

Movers use equipment like dollies and ramps to load clients' items from their buildings to the moving truck. They arrange items in the truck to fit the load and prevent objects from falling or getting damaged. At the destination, movers take the items off the truck and place them in the location the client requests.

(TAKE INVENTORY)

Keeping track of the client's items to make sure nothing gets lost or damaged is an important responsibility that movers have. They write down a description of each package or item at the client's location before starting loading. Movers check this inventory when they reach the destination to ensure they unload all the items.

(HANDLE CLIENTS REQUEST)

Movers also answer clients' questions and address requests they have for how they want items packed, loaded, and unloaded. They also provide information about price and time estimates and address any concerns.

(PERFORM CLEANING AND MAINTENANCE TASK)

Before leaving the clients loading site, movers clean up any supplies or garbage left behind during the packing process. They also keep their moving trucks clean and may help perform general vehicle maintenance.

Job Type: Full-time

Pay: $12.00 – $14.00 per hour

Schedule:

• 12 Hour Shift

• Day shift

• Monday to Sunday

• Night Shift

• On Call

• Weekends

Move Crew Helper (Austin TX area)

Mover Duties and Responsibilities

While a mover's day-to-day duties and responsibilities are determined by where they work, there are many core tasks associated with the role. Based on our analysis of job listings, these include:

(PACK AND PREPARE ITEMS)

At the destination, movers help prepare and pack clients' items to prevent damage during transit. Their tasks include taking apart furniture, wrapping items in bubble wrap or stretch wrap, putting loose items in boxes and sealed bags, and using straps and cardboard sheets on large items.

(LOAD AND UNLOAD ITEMS)

Movers use equipment like dollies and ramps to load clients' items from their buildings to the moving truck. They arrange items in the truck to fit the load and prevent objects from falling or getting damaged. At the destination, movers take the items off the truck and place them in the location the client requests.

(TAKE INVENTORY)

Keeping track of the client's items to make sure nothing gets lost or damaged is an important responsibility that movers have. They write down a description of each package or item at the client's location before starting loading. Movers check this inventory when they reach the destination to ensure they unload all the items.

(HANDLE CLIENTS REQUEST)

Movers also answer clients' questions and address requests they have for how they want items packed, loaded, and unloaded. They also provide information about price and time estimates and address any concerns.

(PERFORM CLEANING AND MAINTENANCE TASK)

Before leaving the clients loading site, movers clean up any supplies or garbage left behind during the packing process. They also keep their moving trucks clean and may help perform general vehicle maintenance.

Job Type: Full-time

Pay: $10.00 – $12.50 per hour

Schedule:

• 12 Hour Shift

• Day shift

• Monday to Sunday

• Night Shift

• On Call

• Overtime

• Weekends
become a part of our team