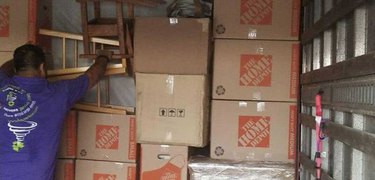 Work with the Best Office Movers in Austin, TX
If you're searching for reliable local office movers, don't look any further than House N Box Movers. We handle a wide range of Austin areas, providing a full array of business and office moving solutions.
House N Box Movers make your office moving and relocation as simple as possible for you and your staff. Your standard office equipment, furniture, and machinery are not a problem for our commercial movers. Our professionally trained office movers are here to help you relocate. Availability from 8 am to 6 pm Everyday!
Offering packing solutions and products to meet the needs of your business contents, House N Box Movers have thought of every possible situation. These qualities are what make us the best office moving company in the area. We provide you with quick, easy, & low-cost solutions.
Why You Should Outsource Your Office Moving Services
With years of experience, we can help different types of businesses by providing office relocation services. We have professionally trained staff that are adept at packing, unpacking, and everything in-between for the following businesses:
Professional corporate offices: We provide professional office moving services, relocating all office supplies quickly and safely.
Retail stores and shops: We provide movers to help you relocate your retail store without worry.
Medical offices and equipment: We have trained office equipment movers that can ensure your equipment is safe from pick up to drop off, so you don't have to worry about the medical supplies and equipment.
Educational facilities: We have years of experience moving educational facilities, helping relocate your items and computers with care.
And more!
Don't see your business on the list? Call us and ask whether we can help you move your business office. We are the best office movers companies can get and can provide big or small office movers to help you relocate.
Get Help From Professional Office Movers in Austin, TX
With our professional office movers, you will enjoy a range of services and benefits, including:
Less stress on the business and employees
The correct equipment for moving
Licensed and insured services
Reduction in downtime
We offer a fully licensed, bonded, and insured moving service and we don't hire day laborers or temps. Our local office movers are full-time employees trained for the job.
We serve in Austin, TX, and nearby areas, including Pflugerville, TX, and Buda, TX.
If you want to relocate your office, near or far, and are looking for a low moving office cost, then call us today at 512-939-8855 or fill out our form online. When you call, you will speak with one of our skilled moving specialists who can help you schedule your appointment. At your appointment, one of our experts will survey the moving needs of your office and your employees. House N Box Movers wants to be your solution to your relocation needs.
Moving Is Never
Simple
Allow us prove this statement WRONG