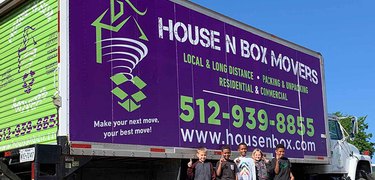 Hire the Best Commercial Movers Company in Austin, TX
House N Box Movers provides a wide range of short-distance and long-distance commercial moving services, always focusing on promptitude, assets safety, and customer satisfaction.
Are you planning a business relocation and looking for reliable commercial movers to help out? You need experienced and well-equipped moving service who understand your needs and make meeting them a priority. You'll find the best of them at House N Box.
Whether you need industrial movers with experience in packing, unpacking, and installing heavy-duty equipment and specialty furniture, electric equipment movers who understand the importance of labeling and attention to details, or gym equipment movers and fitness equipment movers who handle devices carefully and set them up thoughtfully, we can help.
Commercial Moving Services We Provide
Unlike the average business movers who will just load the freight and unload it at the appointed address, we tailor our services to your needs and can cover any or all of the following:
Disassembly
Packing
Loading
Unloading
Unpacking
Installation
The important thing to remember is that no project is too big or too small for us. We take pride in helping businesses of all sizes and specializations and helping them enjoy the same benefits. As a licensed commercial moving company, we carry insurance and guarantee the safe and timely relocation of any asset.
What to Expect When Hiring House N Box Commercial Movers
Anyone needing our commercial relocation services will be assigned a trained coordinator to help plan their business moving. The latter will work with you to identify the best truck for your needs, agree on the services required, and schedule them. They will help you identify special packing needs and any requirements that could influence your business movers' activity.
At the agreed date and time, our team will arrive at the agreed location and ensure the hassle-free relocation of all your assets. From computers and furniture to sensitive machinery, they will pack and deliver everything safely and efficiently, focusing on providing the best service and be worth every cent from the moving service price that you pay.
Would you like to get a cost estimate for the commercial moving services that you need or find out more about the benefits of working with a reputed commercial moving company like ours? Call us at +1 512-939-8855 or send an email to support@housenbox.com, and tell us more about your moving project. We'll gladly answer any questions, estimate costs, and schedule the commercial moving services that you need, be it in Austin, Pflugerville, Round Rock, Kyle, Buda, San Marcos, Georgetown, Hutto, Lakeway, and Cedar Park, TX.
Moving Is Never
Simple
Allow us prove this statement WRONG