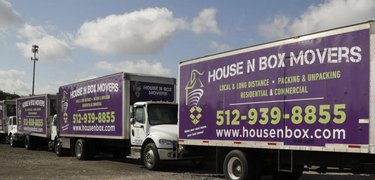 Long-Distance Moving Made Easy with House N Box Movers
Moving to a different state or country does not have to be difficult. Read overwhelming reviews from our customers and call us. We will help you with effortless long-distance moving.
Are you moving your home from one state to another? Moving can be a very stressful experience. Long-distance moving costs are very different from local moving costs; many technicalities have to be taken care of. But you don't have to worry about any of it. If you are moving your home across states or cross country, here is why hiring professional full-service movers is in your best interest.
Benefits Of Long Distance Moving Services
Packing And Unpacking
Moving locally can be difficult for your furniture, breakables, and other assets, but long-distance moving is just in another league. You cannot rely on common packaging, instead, you need extra durable and supportive packing and unpacking. This is when long-distance relocation services from House N Box Movers help you out.
Insurance
The moment you move your property across state lines, the movers need to have insurance to ensure that you are properly compensated against any property damage, loss, or accident. Our Austin long-distance movers provide quality insurance that settles your claim quickly and painlessly.
Losing your stuff is hard enough, you don't have to wait for your financial compensation. Being the best cross-country movers, we help you save a lot of cost overhead by taking complete responsibility for your things.
Easy Travel Planning
Are you planning to rent an RV on track to move your stuff? You might have to go through a lot of permits for proper documentation to get things flowing. Best interstate movers take care of all of it, so you are free to make your travel planning. When you get inside your new home, we will be there with your stuff, ready to unpack and set up.
Why Hire House N Box Movers?
Moving property across the state line is our bread and butter. As the best long-distance movers, we have been doing this for long enough. We understand the pain points of our customers, and how to resolve them. We only work with expert interstate movers who understand how to handle your things with care.
We do not take customer service lightly and make sure your property is handled with the utmost care. Our staff is cordial and respectful at all times. Our priority is your comfort, so you can move your stuff without worrying about the nitty-gritty.
Contact Us Today
Whether you want to know long-distance moving costs or get a free quote, contact us today.
Our long-distance moving services are available at all major locations near you, including Austin, Pflugerville, Cedar Park, Hutto, Georgetown, Lakeway, Kyle, San Marcos, Buda, and Round Rock, TX.
Moving Is Never
Simple
Allow us prove this statement WRONG