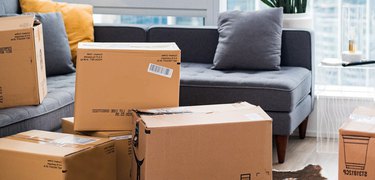 Reasons to Hire Professional Furniture Movers in Austin, TX
House N Box Movers is staffed by a team of experienced furniture moving professionals. We have an A- BBB accreditation for the quality of our services.
If you need one good reason to consider hiring full service movers to help you get all your belongings into a new home, here it is. Professional furniture movers will not only deliver all of your furnishings into your new house in good condition; they will also arrange them where you want them. This means that you literally do not have to lift a finger to get your new house furnished and decorated just the way you want it to be.
Consider the alternative. You want to save some money and opt not to seek out dedicated furniture moving services. The truck will be unloaded in front of your new house and then you're on your own to bring each item inside. Maybe you can rely on a few friends to help, but there is always the risk of dropping the heavy headboard of the king size bed or the large dinner table.
What Furniture Movers Mean by Full Service
When you contact a professional furniture moving contractor, they will want to see a plan of your new house. A member of the team of furniture movers will discuss the moving process room by room, marking the place for each item of furniture on the plan.
At the agreed time, the furniture moving services team will arrive and take care of the entire moving process. They will:
Place each item in protective packaging
Handle the furniture with care as they move it out of the old house, into the truck and back out again
Take each item to its designated spot into your new home.
Hire Furniture Moving Services When Redecorating the House
Furniture movers can also help you if you just want to rearrange your house. Maybe you are considering a different room for the master bedroom or the youngest child is now old enough to have their own room. Whatever the case may be, do not do the heavy lifting by yourself. You could get a serious injury.
In-home furniture movers have the experience and the right equipment to relocate large wardrobes, massive wood cabinets, and other large furniture items quickly and safely.
Work with Experienced Furniture Movers!
At House N Box Movers, we know how to handle any home-moving and rearranging project, no matter how complex. Our team of dedicated professionals holds an - accreditation from BBB in recognition of the quality of our services.
We offer our furniture moving services to clients living in:
Austin, TX
Pflugerville, TX
Round Rock, TX
Kyle, TX
Buda, TX
San Marcos, TX
Georgetown, TX
Lakeway, TX
Cedar Park, TX
Hutto, TX
Call us: 512-939-8855!
Moving Is Never
Simple
Allow us prove this statement WRONG